AACSB International (AACSB) announced on January 26, 2023 that College of Management, National Yang Ming Chiao Tung University has extended their global accreditation in business accreditation. https://www.aacsb.edu/media-center/news/2023/01/confirming-global-quality-and-distinction-in-business-education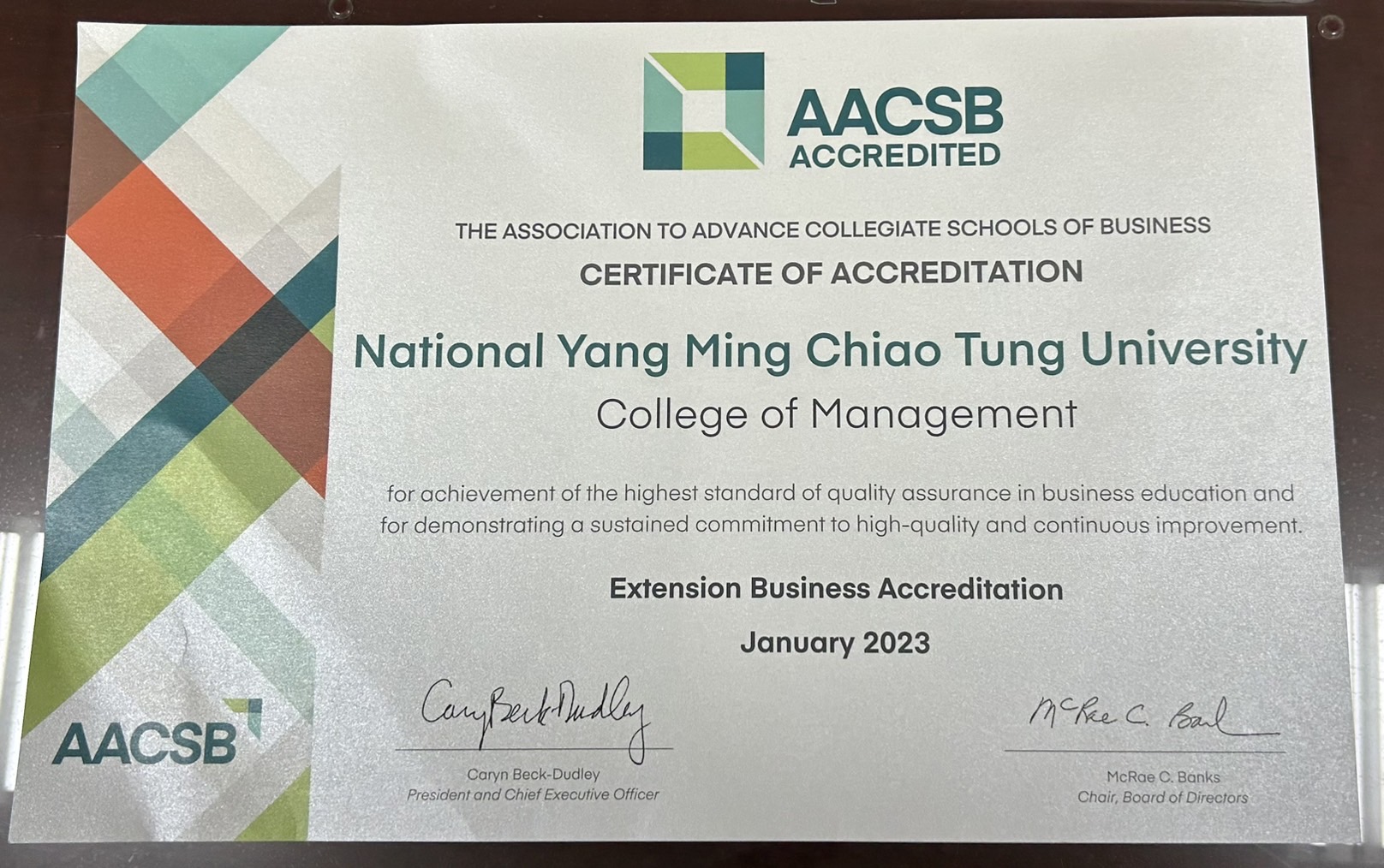 For more than a century, AACSB accreditation has been synonymous with the highest standards in business education. Today, a total of 965 institutions across 60 countries and territories have earned AACSB accreditation in business. Only 5% of the world's business schools hold the distinction of AACSB accreditation.
The reaccreditation, came following a rigorous process that involved extensive reporting, a comprehensive peer review, and a site visit by leaders in the academic business community.
Due to the COVID-19, the pre-visit in August 2022 was conducted online. While we are honored to be the first business school in Taiwan to hold an on-site visit from AACSB after the pandemic. A group of peer reviewers consisting of Professor Ahmad Tootoonchi, Dean of College of Business and Global Affairs at the University of Tennessee at Martin, Professor Beena George, Chief Innovation Officer at St. Thomas University in Houston, and Professor Andrew Gaudes, Dean of Goodman School of Business at Brock University in Canada visited NYCU in person from November 6 to 8, 2022. The achievements of the CoM were highly recognized by the PRT.
During the three-day on-site visit, PRT conducted 8 sessions with the President Lin, VC Lee and Dean Chung, Associate Dean Anthony Kuo, the new AACSB Director Hsin-Ning Su, administrators, faculty, staff, students, alumni and other stakeholder groups focus on school's alignment with AACSB's accreditation standards. These standards require excellence in areas relating to strategic management and innovation; learning and teaching; and academic and professional engagement, which we work every day to meet.
NYCU College of Management earned initial accreditation in 2007 and its first reaccreditation in 2012, second reaccreditation in 2018. We are delighted and proud to announce the extension of AACSB accreditation for another five years. The PRT Chairman praising the visit to NYCU is one of the best experiences throughout his affiliation with AACSB!
Achieving accreditation is a process of rigorous internal focus, during this multiyear path, this would not have happened without everyone's dedication. We appreciate to everyone who contributes to the AACSB accreditation of NYCU CoM. Thorough peer-review process demonstrates college's commitment to quality education. Its next reaccreditation review will be in 2028.
For more photos, visit https://photos.app.goo.gl/uESj5e4FsJqf7Y3F7